Tina – Dental Assistant
Tina graduated from Dental Learning Center in 2015. She joined the team at Dean Cosmetic Dentistry in 2022 and loves the amount of technology available to learn and grow in her career. She enjoys being able to connect with patients, passing on her dental knowledge, and assisting in providing a long-lasting smile. Tina loves to hear the highlights of her patient's day and has a calm, caring and laid-back personality with a big laugh! In her free time, Tina loves going antiquing with her husband Jon. She also loves to visit different state parks and loves her dog!
Samantha – Dental Assistant
Samantha, best known as Sam, graduated from Roane County High School. She worked as an operations manager for a local chain restaurant before going back to school for dental assisting. She got her dental assisting certificate from Competitive Edge Dental Assisting Academy in 2022. Sam started that same year with Dean Cosmetic Dentistry. She enjoys helping others and is excited about expanding her experience and learning all things dentistry. She enjoys it so much you can hear her giggle throughout the office. She spends her free time cooking, spending time with family, and taking care of her pup.
Michael – Dental Hygienist
Michael attended East Tennessee State University and graduated with a bachelor's degree in Dental Hygiene 20216. He came to Dean Cosmetic Dentistry in 2020. Michael expresses a calm and caring personality. He enjoys educating patients and meeting their needs to achieve their ideal smile. He is a story teller, and he discusses dentistry in a way that isn't confusing. He is quick to share a laugh and loves to hear the highlights of his patient's day. Michael spends most of his free time with his wife and sons. He enjoys cooking, guitar, woodworking, photography, reading and investing.
Sarai – Dental Hygienist
Sarai started her dental career while attending Dental Staff School in 2017 for dental assisting. She wanted to further her education and increase her care towards patients so she went back to graduate Roane State Community College in 2022 with her associate's degree in dental hygiene. She loves being a part of Dean Cosmetic Dentistry since 2022 because the team is so dedicated to superior customized treatment. Her goal is to provide her patients with gentle, quality care. Sarai is married with 3 beautiful children. When she is not serving the community she enjoys dancing, singing and stand-up comedy.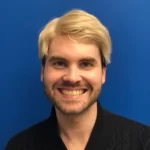 James – Financial/Insurance Coordinator
James has worked in banking and information technology support for several years. Once he moved to Knoxville, he worked for an insurance company and then started his career in dentistry as a patient coordinator. James joined Dean Cosmetic Dentistry in 2020 and now is skillful as our financial and insurance coordinator where his charm and caring heart makes our patients feel comfortable and at ease throughout their treatment phases and financial understanding. In his spare time, he enjoys spending time with his huggable, cute puppy.
Karen – Patient Coordinator
Karen has been a patient for over 25 years. We loved Karen's friendly, outgoing personality so much that we asked her to join our team! Karen has a natural compassion for people and truly loves the day-to-day interaction with our patients. Her warmth and humor make long time and first-time patients feel comfortable and at home. Karen was born and raised in Georgia but has been in Knoxville for over 35 years. She has children and grandchildren whom she loves to spoil. She enjoys spending time with her family and friends. She is active in her church, loves to read, listen to music, laugh and have fun in life.
Melissa – Office Manager
Melissa attended West Georgia Technical College and graduated in 2009. She has a bachelor's degree in Public Health of Dental Hygiene. Melissa joined Dean Cosmetic Dentistry in 2014 as a Hygienist. However, she has moved into the office manager role. Melissa loves connecting with people one on one and enjoys educating people on the importance of healthy teeth. Melissa enjoys her free time reading, watching movies, crafting, and finding good deals while shopping. She has started to travel more and would love to hear your travel stories.
Mary – Dental Hygienist
Mary started as a dental assistant in her father's and grandfather's practices before graduating high school! In 1983 she graduated dental hygiene school in Colorado. Mary has been a tutor to hygiene students and taught continuing ed classes. Dean Cosmetic Dentistry is blessed to have Mary as an "on call" employee since 2022! The technology keeps things exciting and fun for Mary, and she loves the personal connection with patients and being able to guide them to better overall health. The flexible schedule allows her time to travel the world and enjoy discovering the Knoxville area.