Dr. Donnie Dean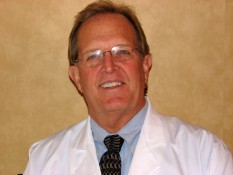 Knoxville Dentist, Dr. Donnie Dean was born and raised in a small town in Texas to parents who were school teachers and coaches.  He was brought up by parents who believed in helping others.  It was their influence that led him into a career that involves working with people and helping them to change for the better.
Dr. Donnie Dean became interested in dentistry at a young age while he was in Junior high school. Later in high school, he had the opportunity to observe a dentist perform oral surgery, and he set his mind on a career in Dentistry.  Dr. Dean earned his Bachelors Degree from the University of Texas at Austin. He then went on to study Dentistry at the University of Texas Health & Science Center in San Antonio.
After graduating, Dr. Donnie Dean began working in his home state of Texas. His first year involved working predominantly with dentures, partials and complicated extractions.  Dr. Dean was then offered an opportunity to work in a successful and fast-paced, multi-lingual practice in Miami. He remained there for four years.  While there, he focused primarily on full-mouth restoration.
In 1990, Dr. Dean met his future wife Margaret on a cruise ship, and they are now celebrating nearly 30 years of marriage!   Nine months after meeting,  Dr. Dean moved to Knoxville and opened his current practice at 121 Capital Dr, Knoxville, TN 37922.  Twenty nine years later, he is still caring for many of his first patients.
Knoxville Dentist Dr. Donnie Dean is passionate about keeping up with latest developments in dental practices and technology. His continuing education has included two years' worth of credits in business courses specializing in management. In addition, he has received credit in continuing education courses offered by the following: the Pankey Institute, Pete Dawson Courses, the Scotsdale and Charlotte Sirona Center, the Spear Institute, the SYnergy Continuums with Biomet 3i, the International Team for Implantology ITI, the Convergent Solea Laser continuums,  and Arun Garg's  Implant Continuum, Master's course and Implant placement course. Dr. Dean also participates regularly in several study clubs that deal with a comprehensive team approach to patient care.
In 2001, Dr. Dean invested in the breakthrough CEREC System, which enables him to create and fit dental crowns and veneers for the patient many times within one single visit.  With 19 years of experience using, watching and being on the front lines of the developing technology, he enjoys applying the use of advanced technology, like the Cerec System and the Galileos 3D Advanced Imaging System to cases of implant, ortho, and rehabilitative dentistry. These are intra-oral scanners that are extremely accurate and virtually eliminate the need for those uncomfortable impressions. Recently, Dr. Dean started using a Solea laser that can restore some teeth with no anesthesia. He uses this for numerous procedures to minimize the sound of the drill, use minimal or no anesthesia, and help improve other procedures while rehabilitating the mouth.  Dr. Donnie Dean engages a team approach in providing top level services to his patients, whom he considers family. Having acquired hundreds of study hours with this technology, Dr. Donnie Dean is now a mentor at the Scotsdale and Charlotte Sirona Centers and has trained many dentist in the use of intra-oral scanners for all aspects of dentistry.
Dr. Alex Pilgreen

Dr. Alex Pilgreen is a Tennessee native originally from Memphis.  He moved to East Tennessee with his wife, Brennan, following the completion of his Dental training and has worked in Bristol/Kingsport before settling in Knoxville.  He has a passion for learning and working with technology in dentistry.  He has training with the CEREC same day crowns and uses additional technology to  provide a non-traditional dental experience.  His mission for every patient is to instill comfort and confidence in their treatment by meeting your individual needs.
He completed his undergraduate degree at Auburn University and proceeded to attend dental school at the University of Tennessee Health Science Center in Memphis obtaining his doctorate degree (D.D.S.).  Dr. Alex maintains an active membership with the American Dental Association along with the Tennessee and local chapters.  He also spends time participating in the Seattle Study Club to advance his knowledge in approaching complex cases from a multidisciplinary approach and working with specialists when needed.
Outside of the dental office Dr. Alex has several hobbies that he is passionate about including cooking, reading, and endurance sports.  When he is not treating patients you may see him running/biking, skiing, or playing with his two young dogs (Luna and Lily) at the park.  He is currently preparing for his first full length Ironman in the fall of 2021.