OUR COVID-19 PRECAUTIONS:
In order to preserve the safety and health of our patients and employees, and to ensure we promise the exceptional care and experience our patients are accustomed, we have implemented several personal protective equipment and infection control procedures. Your statement may reflect a small charge which allows us to provide you the highest level of security and confidence while in our care.
1) Please call or text us when you arrive in the parking lot. We will call or text you when you can come into the office. We are trying to limit the number of people you come into contact with during your appointment time.
2) Feel free to wear a mask. We will be wearing masks as well.
3) We will be taking all patients temperature when they arrive in the office.
4) We are asking all patients to sign a "COVID-19 Treatment Consent Form" stating that they have not been sick or out of the U.S. for the last 14 days or, come in contact with anyone that has been sick or outside of the U.S. in the last 14 days.
5) If you bring anyone else with you for your appointment, we may ask that they not come into the building. We are trying to limit the number of people in the building to patients that have an appointment.
Lastly, please feel free to BRING A BLANKET in case you get cold. Our new PPE (patient protection equipment) is warm. You may find the air colder than normal in our office.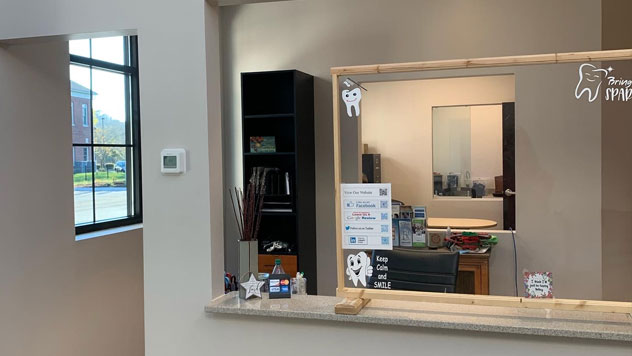 Thank you SO much for your understanding of these new procedures. We are committed to doing our best to keep you and our staff safe and healthy as we possibly can.
Welcome to Dean Cosmetic Dentistry
We are very happy that you have chosen us to take care of your smile!
At Dean Cosmetic Dentistry, we have been serving the community with advanced technology and personalized dental procedures. Whether you are looking for a general practitioner, a cosmetic expert, we are ready to meet your needs.  Dr. Donnie Dean has years of training and experience and can treat patients of all ages. Dr. Dean is a mentor and trainer of other dentist across the nation.  With his whole team, they know how to make the treatment process pleasant and stress-free. In particular, we often are able to provide convenient, same-day treatment and stunning final results.
Schedule an appointment with your Knoxville Dentist
Let us help you show off a better smile!
Click to the box below read patient reviews
Why Choose CEREC:
Learn about the same day procecure.
Dental Finacing Options
We accept several insurance plans, please ask us to check your insurance carrier.
We also accept third party financing from our partners below which will allow you to get any dental procedure financed including extractions and fillings. They also cover things that your insurance plan may not. Some conditions apply.  Click Here to learn more about Care Credit.
Years of Experience in Transforming Smiles
Involved in Every Patient's Oral Care
Hundreds & Hundreds of Study Hours Acquired Resulting in Dr Dean Reaching Mentor Status Teaching Other Dentist in Cerec Cosmetic Dentistry
Recent News:
Check our Blog every week for the latest news, tips and help to keep your smile healthy.
At Dean Cosmetic Dentistry you can get same-day crowns using the latest dental technology. CEREC®(Chairside Economical Restoration of Esthetic Ceramics) technology is used to prepare the tooth where the crowns are needed to be placed. Our doctors use a camera to scan...