SureSmile Invisible Aligners

SureSmile Clear Aligner has ARRIVED!
Your Ideal Smile is Within Reach.
Congratulations! You're taking the first step towards a new you! Orthodontic treatment with SureSmile® Aligners can help you achieve your ideal smile faster, easier, and more discretely than you ever thought possible.Your Ideal Smile is Within Reach With SureSmile.
Designed to fit your lifestyle.
SureSmile® is a series of transparent, removable and virtually invisible clear aligners designed to progressively straighten your teeth into their ideal position.
Virtually invisible
Comfortable
Removable
Your smile deserves a clinician-developed treatment plan.
Most importantly, the SureSmile® Aligner System give you the peace of mind that your treatment plan is developed by a dental professional. Dean Cosmetic Dentistry has invested in state-of-the-art equipment and software that allows him to see your teeth "root to crown" at every angle imaginable. You can be confident your personalized treatment plan is fully customized and designed for a long-term healthy, happy smile.
Why choose SureSmile® Aligners?
Virtually Invisible
Comfortable to Wear
Removable
SureSmile® Aligners are created using unparalleled digital technology
Great Results
SureSmile® Aligners are designed using advanced software to ensure they fit perfectly and deliver the exact tooth movements needed to achieve great results.
Shortest Time
Customized SureSmile® Aligner treatment plans are developed using advanced orthodontic capabilities to achieve the best results in the shortest possible time.
Designed to Last
Pioneered by orthodontic specialists, SureSmile® Aligner treatments are designed to make anatomically correct movements that ensure long lasting results.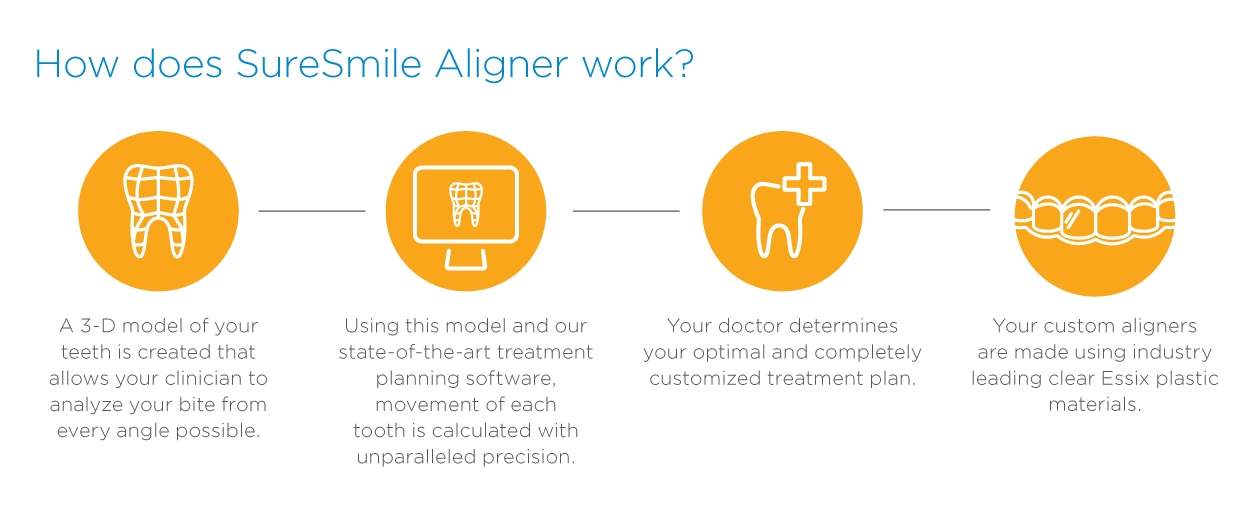 Getting started is easy as 1, 2, 3 – you'll be smiling in no time!
Schedule your initial SureSmile® Consultation at Dean Cosmetic Dentistry
Roberts will take a digital impression, and begin to develop your custom treatment plan
Collect your customized SureSmile® Aligners and start smiling
Effective treatment without having to change your lifestyle.
Why Dean Cosmetic Dentistry?  You honestly won't find this level of dentistry anywhere else.
Superior training, continuing education, technology and experience are a few reasons to choose our dental office.  In 2001, Dr. Dean invested in the breakthrough CEREC System, which enables him to create and fit dental crowns and veneers for the patient many times within one single visit.  With 19 years of experience using, watching and being on the front lines of the developing technology, he enjoys applying the use of advanced technology, like the Cerec System and the Galileos 3D Advanced Imaging System to cases of implant, ortho, and rehabilitative dentistry. These are intra-oral scanners that are extremely accurate and virtually eliminate the need for those uncomfortable impressions. Recently, Dr. Dean started using a Solea laser that can restore some teeth with no anesthesia. He uses this for numerous procedures to minimize the sound of the drill, use minimal or no anesthesia, and help improve other procedures while rehabilitating the mouth.  Dr. Donnie Dean engages a team approach in providing top level services to his patients, whom he considers family. Having acquired hundreds of study hours with this technology, Dr. Donnie Dean is now a mentor at the Scottsdale and Charlotte Sirona Centers and has trained many dentist in the use of intra-oral scanners for all aspects of dentistry. 865-539-1119 
www.deancosmeticdentistry.com