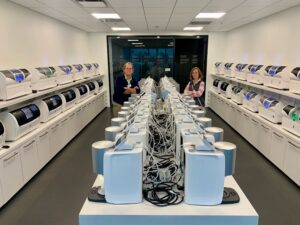 With advancements in modern dentistry, same-day CEREC® crowns are increasingly popular. Crowns are used to restore teeth that are decayed or broken; these restorations can also be used for cosmetic procedures. For most of our patients, the convenience of same-day crowns is appealing, but they may not know exactly what to expect. This procedure is a minimally invasive one that has a short recovery time, and patients walk away with a new smile and restored chewing function.  No down time with the inconvenience of waiting on a lab to send the crown back several weeks later.  And no terrible temporary that quite often will fall off and the worst possible time.   So let's talk about The Benefits of Same-Day CEREC® Crowns.
CEREC® crowns are valued for their convenience, natural appearance, and ease of placement. One appointment and quite often just an hour or so.
Fewer appointments as in 1 only for a new dental crown!
A traditional crown procedure requires at least two appointments. The patient comes in the first time to have the tooth prepared and leaves with a temporary crown. Meanwhile, an impression of the prepared tooth is sent to a dental lab for processing. This can take two or three weeks, and when the patient comes back for the second appointment, the final crown is cemented if it fits correctly.
With our Cerec same-day crown, the patient comes in for the appointment, the tooth prepared, and the crown is milled in the office. The final crown is cemented that day. Any adjustments that need to be made can be done so immediately; when a lab-made crown has to be sent back for changes, there is the potential for the patient having to wear a temporary crown for a long time.  You can conveniently catch up on your email, watch television or just relax while your beautiful, custom made dental crown is being created.
Beautiful and Natural-looking restorations
CEREC® crowns are made of a ceramic material matched to the patient's other teeth. Often, people will not even know that the patient has a crown due to the color being so close to the other teeth. Some lab-made crowns may have an unsightly metal margin; however, same-day crowns are made completely of tooth-colored material. This can increase patient satisfaction in the final appearance of the crown, and the patient gets to see the crown immediately instead of having to wait to get it back from a lab.
Because this alternative looks so natural, dentists often choose same-day CEREC® crowns for front-tooth restorations. However, these can also be used on premolar and molar teeth when needed.
No Gooey impressions as we are fully digital!
One of the things that patients dread most about a crown procedure is getting impressions taken. Many patients have sensitive gag reflexes and find this part of the procedure uncomfortable. Fortunately, same-day crowns are often made with a digital impression from a unique scanner. This digital image is sent directly to the mill for the crown fabrication, and the patient does not have to deal with sticky impression material.
Why Dean Cosmetic Dentistry?
 

You honestly won't find this level of dentistry anywhere else.

Superior training, continuing education, technology and experience are a few reasons to choose our dental office.  In 2001, Dr. Dean invested in the breakthrough CEREC System, which enables him to create and fit dental crowns and veneers for the patient many times within one single visit.  With 19 years of experience using, watching and being on the front lines of the developing technology, he enjoys applying the use of advanced technology, like the Cerec System and the Galileos 3D Advanced Imaging System to cases of implant, ortho, and rehabilitative dentistry. These are intra-oral scanners that are extremely accurate and virtually eliminate the need for those uncomfortable impressions. Recently, Dr. Dean started using a Solea laser that can restore some teeth with no anesthesia. He uses this for numerous procedures to minimize the sound of the drill, use minimal or no anesthesia, and help improve other procedures while rehabilitating the mouth.  Dr. Donnie Dean engages a team approach in providing top level services to his patients, whom he considers family. Having acquired hundreds of study hours with this technology, Dr. Donnie Dean is now a mentor at the Scottsdale and Charlotte Sirona Centers and has trained many dentist in the use of intra-oral scanners for all aspects of dentistry. 865-539-1119