If you're suffering from missing teeth or ill-fitting dentures that that don't fit securely, then you are probably aware of the negative impact it can have on your life. Not only is your smile compromised, but so is your ability to eat comfortably and enjoy your favorite foods, and to speak and smile with confidence. What you may not be aware of are the consequences that can arise when missing teeth are left missing for too long.  So Don't live with a compromised smile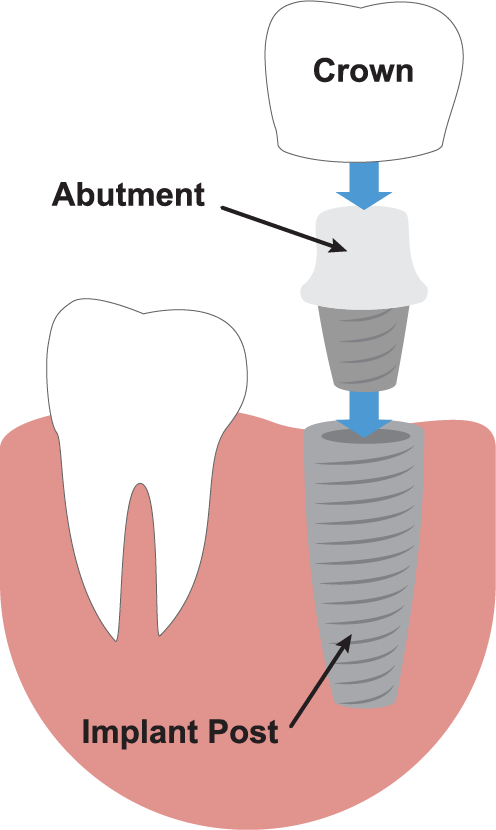 Dental implants are small titanium posts or screws that are essentially tooth root replacements. Dental implants are surgically inserted into the gums and into the jawbone using computer-guided precision technology. Implants typically require a healing period of several months to actually become fused with the jawbone, effectively becoming a fully integrated component of your new complete smile.
Compared to traditional restorations that sit on top of the gums, dental implants actually replace the root of the tooth, which is an essential piece of the complex system that is your oral health. Implants prevent the jawbone deterioration and tissue loss that you usually see in patients with missing teeth or traditional restorations. In fact, implants actually stimulate new bone and tissue growth around the implant giving you the fully formed smile you had before missing teeth.
Look at some of the benefits
There are many benefits in replacing missing teeth or stabilizing dentures with dental implants.
Keep other teeth from shifting
Preserve alignment & bite
Prevent gum tissue loss
Prevent jawbone deterioration
Stimulate new tissue & bone growth
Secure restorations
Enjoy eating again
Regain normal speech patterns
Clean & maintain like natural teeth
Replace missing teeth
Stabilize dentures
Improved quality of life
Confidence in a secure, complete smile
We know you have questions – 865-539-1119 
 

Why Dean Cosmetic Dentistry?

 

You honestly won't find this level of dentistry anywhere else.  Superior training, continuing education, technology and experience are a few reasons to choose our dental office.  In 2001, Dr. Dean invested in the breakthrough CEREC System, which enables him to create and fit dental crowns and veneers for the patient many times within one single visit.  With 19 years of experience using, watching and being on the front lines of the developing technology, he enjoys applying the use of advanced technology, like the Cerec System and the Galileos 3D Advanced Imaging System to cases of implant, ortho, and rehabilitative dentistry. These are intra-oral scanners that are extremely accurate and virtually eliminate the need for those uncomfortable impressions. Recently, Dr. Dean started using a Solea laser that can restore some teeth with no anesthesia. He uses this for numerous procedures to minimize the sound of the drill, use minimal or no anesthesia, and help improve other procedures while rehabilitating the mouth.  Dr. Donnie Dean engages a team approach in providing top level services to his patients, whom he considers family. Having acquired hundreds of study hours with this technology, Dr. Donnie Dean is now a mentor at the Scottsdale and Charlotte Sirona Centers and has trained many dentist in the use of intra-oral scanners for all aspects of dentistry. 865-539-1119 

Find out what others are saying: https://birdeye.com/dean-cosmetic-dentistry-center-144297510769472