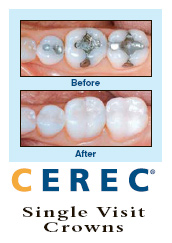 A chipped or broken tooth never happens at a convenient time, ever. But, CEREC one-visit dental crowns can help provide a solution that fits seamlessly into your schedule. With Dean Cosmetic Dentistry you can get Beautiful & Durable Crowns with Breakthrough 1 Visit Technology! Normally, patients have to hope their dentist can see them the same day that their injury occurred, that they have time to place a temporary crown, and that they will have time to return later to get a more permanent restoration.  Who has time for several appointments, gooey impressions and ill fitting crowns?
For our patients, that process is simply too slow. To speed up and enhance the way we care for damaged teeth, Dean Cosmetic Dentistry performs repairs utilizing CEREC one-visit crown technology. CEREC has enabled us to design, fabricate, and place a crown in just one easy appointment. Call us today 865-539-1119 to get the care you need and save time thanks to CEREC.
How Does CEREC Work?
"CEREC" actually stands for "Chairside Economical Restoration of Esthetic Ceramics." Dean Cosmetic Dentistry uses it to create crowns for many of our patients who need immediate restorative work. It allows our team to design, create, and place a custom-made crown faster than ever. It also eliminates the need for unreliable temporary crowns and messy impressions.
With CEREC, we can mill your new crown in office right before your eyes. Your crown will be made from 100% dental porcelain. After preparing your damaged tooth, Dr. Dean will scan it digitally with the latest technology based scanner instead of taking a traditional gooey impression. He will then use our CEREC computer to design your unique crown. You'll be able to watch this entire process on a chairside monitor, and we'll answer any questions you might have before we start manufacturing your crown.
CEREC crowns are milled using in-house CAD/CAM technology in less than fifteen minutes, and you'll be able to relax in our comfortable office during this time. We have a variety of patient amenities at your disposal, and any member of our team will be more than happy to help you pass the time if necessary. After finishing and polishing, we'll place your dental crown the exact same day. We'll use a natural-looking resin to bond your CEREC crown so that the final product looks great and can be trusted to stay in place.
Give us a call 865-539-1119  if you have a tooth in need of repair. A CEREC one-visit crown will quicken your treatment and provide you with a stable and secure solution that doesn't throw off your schedule. With us, you'll get the best when it comes to speed and quality at every visit.
Why Dr Donnie Dean?  Superior training, continuing education, technology and experience are a few reasons to choose our dental office.  In 2001, Dr. Dean invested in the breakthrough CEREC System, which enables him to create and fit dental crowns and veneers for the patient many times within one single visit.  With 19 years of experience using, watching and being on the front lines of the developing technology, he enjoys applying the use of advanced technology, like the Cerec System and the Galileos 3D Advanced Imaging System to cases of implant, ortho, and rehabilitative dentistry. These are intra-oral scanners that are extremely accurate and virtually eliminate the need for those uncomfortable impressions. Recently, Dr. Dean started using a Solea laser that can restore some teeth with no anesthesia. He uses this for numerous procedures to minimize the sound of the drill, use minimal or no anesthesia, and help improve other procedures while rehabilitating the mouth.  Dr. Donnie Dean engages a team approach in providing top level services to his patients, whom he considers family. Having acquired hundreds of study hours with this technology, Dr. Donnie Dean is now a mentor at the Scottsdale and Charlotte Sirona Centers and has trained many dentist in the use of intra-oral scanners for all aspects of dentistry. 865-539-1119 www.deancosmeticdentistry.com
Find out what others are saying: https://birdeye.com/dean-cosmetic-dentistry-center-144297510769472