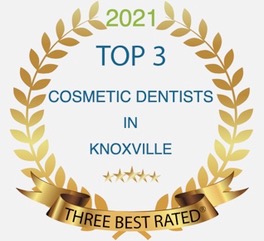 Once again Dean Cosmetic Dentistry and Dr. Donnie Dean receive the prestigious honors of being voted Top 3 Cosmetic Dentist in the Knoxville area! Congratulations Dean Cosmetic Dentistry!  Dr Dean is a Cerec mentor and trainer leading the way with cosmetic dental technology and creating thousands of beautiful smiles.
Dean Cosmetic Dentistry is focused on delivering the highest quality level of dental care, while offering an exceptional personalized experience. We believe in combining state-of-the-art dental technology with proven dental treatment and techniques, in order to offer our patients the absolute best technology available and the best care, that is both cost-effective, and time efficient.
Hundreds of Hours
Hundreds & Hundreds of Study Hours Acquired Resulting in Dr Dean Reaching Mentor Status Teaching Other Dentist in Cerec Cosmetic Dentistry how to master the 1 appointment dental crown!  You will never have to settle for more than one appointment for a custom, beautiful, new crown.  
If you're not currently a patient we would invite you to check out Dr. Donnie Dean and Dean Cosmetic Dentistry. A leader in Cosmetic Dental Technology! Our Knoxville dental center stands apart from the crowd. Our staff and treatments truly make us different. Specializing in 1 visit crowns, dental implants & gentle laser dentistry!  These are just a few dental advances we offer. Giving you your best smile is our goal.  865-539-1119
Why Dr Donnie Dean?
You honestly won't find this level of dentistry anywhere else.
Superior training, continuing education, technology and experience are a few reasons to choose our dental office. In 2001, Dr. Dean invested in the breakthrough CEREC System, which enables him to create and fit dental crowns and veneers for the patient many times within one single visit. With 19 years of experience using, watching and being on the front lines of the developing technology, he enjoys applying the use of advanced technology, like the Cerec System and the Galileos 3D Advanced Imaging System to cases of implant, ortho, and rehabilitative dentistry. Visit the best in advanced cosmetic dentistry and dental implants 865-539-1119 Congratulations Dean Cosmetic Dentistry deancosmeticdentistry.com
Find out what over a thousand other people are saying: https://birdeye.com/dean-cosmetic-dentistry-center-144297510769472