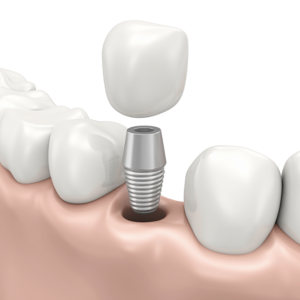 You're not stuck with dentures and no options anymore.  Dental implants give you new choices for more life like teeth.  If you're suffering from tooth loss, you need a reliable prosthetic to fill the missing space. For those who have had tooth loss for a while, you've probably tried dentures. However, if you're new to tooth loss, you're probably trying to understand your treatment options to make the best choice. While dentures are the affordable option, dental implants have clear benefits when compared to other tooth replacement options. No matter if you've tried dentures in the past or if you're new to tooth loss, we have the top 5 reasons you need to consider denture alternatives.

Investment in Your Smile
When you choose implants over other prosthetics, you're actually investing in your smile. While implants are more expensive than other options, they are a permanent solution, so you won't need to have a new set of replacement teeth made in the future. You'll have a long-lasting solution to love your smile for many years to come with the right care.
Promote Oral Health
Implants promote your oral health in ways dentures simply can't accomplish. If you have remaining natural teeth, implants provide those teeth with the support they need to stay strong and healthy, reducing the potential for addition tooth loss in the future. As you lose teeth, your bone and structures begin to deteriorate. But, implants stimulate bone growth to repair the damage of tooth loss.
Unmatched Function
Implants closely mimic your natural teeth in terms of function. When compared to other prosthetics, implants offer a 70 percent increased biting force, allowing you to eat whatever you like. Plus, since they are secured in place, there is no slipping or discomfort when eating or speaking.
Amazing Long-Lasting Smile
Implants also closely mimic the appearance of your natural teeth so no one will ever be able to tell they aren't your natural teeth. We are able to customize the prosthetic crowns to create an amazing smile. With the right care, your new smile will last a lifetime.
Convenience You Can Trust
Implants are surgically inserted into your jawbone, so there is no need to ever take the implants out, which makes cleaning a breeze. Unlike other false teeth, you don't need messy adhesives, costly cleaners or a lengthy cleaning process. You care for implants just as you care for your natural teeth, but you will need to spend a few extra minutes cleaning the hard to reach places.
Denture Alternatives in Knoxville, TN
Dean Cosmetic Dentistry provides a number of treatments for tooth loss. However, if you want to benefit from the best tooth replacement option, we encourage you to ditch your dentures and invest in your smile with dental implants. With implants, you'll have the strength and aesthetic quality you've always wanted but just couldn't achieve with other prosthetics.
If you're ready to transform your smile with a permanent, natural-looking solution, call our office today at 865-539-1119 to schedule a consultation. Ditch your dentures and choose Dean Cosmetic Dentistry of Knoxville for a stunning new smile today.
www.deancosmeticdentistry.com 865-539-1119
New Patients Welcome
*No Insurance?  No Problem ask us about A Plan For Health
*Cerec -One Appointment Crowns
"Over 25 years of great relationships." 🙂😆